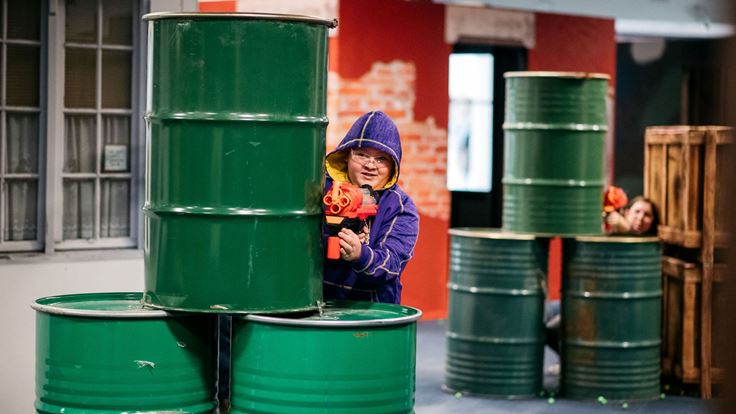 Tactical Urban Combat is a Locally Owned Family Entertainment Center offering one-of-a-kind attractions great for the whole family! 
We offer Tactical Laser Tag, Tactical Nerf Battles, and Virtual Reality!
MOA® is our largest location offering multiple battle arenas:
Tactical Laser Tag 30 = 30-minute sessions + 1-hour private parties
Tactical Nerf Battles = 30-minute sessions + 1-hour private parties
Free Roam Virtual Reality = 20-minute sessions
and Arcade
Tactical Laser Tag
Our Tactical Laser Tag is one of a kind. Ages 8 and up.
For the hardcore of the hardcore. Come battle in some Tactical Laser Tag in Minnesota's Largest Tactical Laser Tag Arena. If you like Call of Duty you will love our Tactical Laser Tag!

How it works:
Fully wireless, with no bulky vest. A Gun and a Headset! 
Your weapon 🔫 is equipped with multiple capabilities. Starting with a red dot sight that forces you to be accurate, full auto AR and a Medic Shotgun ⛑ to heal teammates or do damage to the opponents, and a taser to stun the enemy team. You even have the option to Melee!! a Knife from close quarters! 

You can swap out your medic shotgun for a: 
Rocket Launcher 🚀
Grenade Launcher
Ray Gun 🔫
Sniper ◎
Heavy Machine Gun
Flame Thrower 🔥
There are kill streaks like: 
UAVs 📡
Mortars 💣
Helicopter 🚁
Air Strike 🛬
Nukes 🍄
All game modes like Team Deathmatch, Domination, King of the Hill, Gun Game, Infected, One Snipe, and many more.
Tactical Nerf
Our Tactical Nerf is unlike any other Nerf Battle
We use the Nerf Rival Blasters that shoot the foam ball. We have multiple different kinds to choose from including foam swords!! We battle it out Team vs Team. In many games like Team Deathmatch, Capture the Flag, Domination, and more. This is perfect for ages 6 and up. The adults love the competitiveness of this for their work parties. It's not your traditional bowling or axe throwing. The competition is serious! Kids' birthday parties love the One of a kind Tactical Nerf Battle experience! 
Virtual Reality
Our Free Roam Virtual Reality Laser Tag. Ages 8 and up
Is an experience like never before. Jump into the virtual world and face off in some player vs player VR laser tag. Players put on the headsets, grab the controllers and walk into the arena. As soon as the game starts all the obstacles pop out of the ground and it's go time. Duck, hide and shoot!! Do you have what it takes?!?
Booking online or walk-ins are welcome!