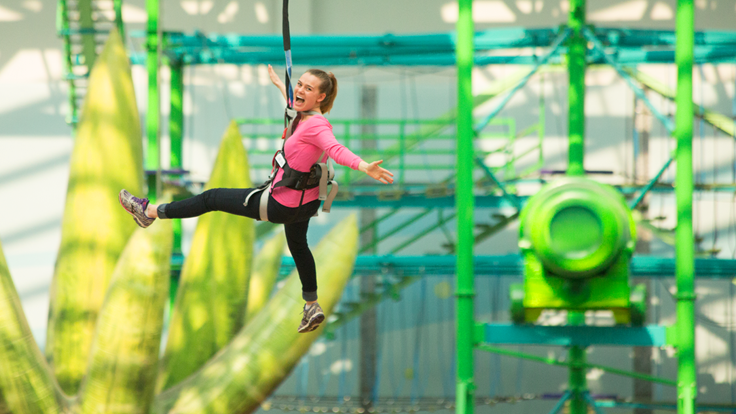 Experience Dutchman's Deck—the ultimate adventure course. Reach new heights on the Ghostly Gangplank, the tallest Sky Trail® ropes course in the world, challenging guests to climb 56 feet above Nickelodeon Universe®. Then take the plunge on Anchor Drop, a spiral slide experience that will have you twisting down to the ground. If you're ready for more, take flight on Barnacle Blast—the longest indoor zip line in North America that will send you soaring 55 feet above the park.
Tickets and Height Requirements:
Tickets are only available for purchase in-person at Dutchman's Deck.
Dutchman's Deck Adventure Course
Includes ropes course, zip line + slides. Guests who choose to challenge the course must be 48" tall to participate.
$19.99 one-time pass*
$15 add on to a Nickelodeon Universe Unlimited Ride Wristband
*Zip line is currently closed.
Individual Attractions are also available for purchase only at Dutchman's Deck
Anchor Drop Spiral Slides
Must be 40″ tall to participate.
Barnacle Blast Zip Line - Currently Closed
Must be 48″ tall to participate.
Ghostly Gangplank Ropes Course
Must be 48″ tall to participate (42″ tall with a paid chaperone).
Location:
Located on the west side of Nickelodeon Universe®
Shoe & Clothing Requirements:
Closed-toe and closed-heel shoes must be worn at all times on the course. No flip flops or sandals. Crocs are available to wear on the course and must be worn with socks. Socks can be purchased for $1. No skirts, dresses or short shorts. Shorts must have at least a 6" inseam to ensure proper fit of harness.
Chaperone policy: A chaperone is defined as a person who is qualified to ride and who, in the opinion of the ride operator, is capable of controlling the actions of the unqualified rider. Required chaperone must pay to participation.