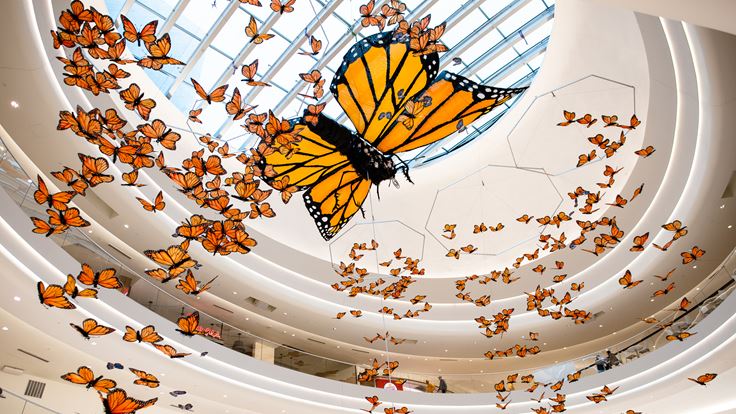 Kaleidoscope at MOA®
Christopher Lutter-Gardella has created a magnificent suspended installation at Mall of America consisting of a majestic 30-foot Monarch butterfly surrounded by more than 300 smaller butterflies. The installation is entitled "Kaleidoscope" and will share the critical story about the decline of the monarch butterfly and other pollinators with the hope of educating guests on how they can make a difference to help address this situation.

Kaleidoscope was created using materials pulled from the waste stream. What you might see as a plastic spoon, artist Christopher Lutter-Gardella sees as an eye of a monarch butterfly. Over 600 spoons were used to create the eyes of the smaller butterflies above you. When you start to see things differently, we realize the smallest changes truly can have a big impact.
Artist Statement: 
Ah! The wonder that is the butterfly! Gentleness. Beauty. Fragility. We admire them for these qualities, hardly understanding that we depend upon them for our very existence. We may love them for their beauty and grace -- and perhaps even for their tenacity and bravery, in spite of their fragility -- not realizing that they may be the natural foundation upon which our entire world stands...like ants and worms and bees. We depend-upon pollinators, such as butterflies, to bear us the precious fruits of the plant world—as do many other creatures in the natural world. Remove the pollinators and the Natural Order collapses!
This installation is a celebration of the marvelous beauty of butterflies! It is also a clarion-call for us humans to wake-up and understand that we must endeavor to protect the most vulnerable among us ... whether butterflies or fellow human beings. If we continue to build a society where only the strongest survive, we will be doomed to extinction. This is most certain. Our willingness and ability to protect such fragility and grace and beauty — to make a space for gentleness and vulnerability – will be the measure of our worthiness to play a continuing (and honorable) role in creation. It will determine our survival as a species.
We, the hundreds who have collaborated to create this installation, have taken what is considered "waste" in our society and made a thing of Beauty. We did this with our hands, not machines. Each of these butterflies were individually hand-crafted, passing through multitudes of hands of hundreds of helpers. We did this together! And our carbon footprint was kept at a minimum, thanks to our hands! Of course, special thanks must go out to a dedicated steady-on crew of dozens, who believed enough in this art-piece — and in the natural wonders it celebrates — to lend many hours of their precious Winter and Spring to the painstaking, often repetitive, hand-work that it required. Not to mention all the problem-solving along the way. Thank you ALL!
We have up-cycled as much of our raw materials as possible. We have used our hands and shunned energy-consuming machines. We have made an engaging thing of wonder and homage-to-Nature!   Now, let us go forth and do the hard work of protecting what is most fragile, gentle and beautiful! 
About the Artist:
Christopher Lutter Gardella is a designer, inventor, theater-maker and community educator whose work revolves around the design, construction and performance of puppets, masks, props, costumes, unique theatrical inventions, kinetic-sets and sculptural installations. He produces his art predominately from waste-stream materials, exploring the unique potentials inherent in the material. 
For two decades Lutter-Gardella has been working to inspire and facilitate original thinking in the realms of theatrical, educational and public-art design. A deep and abiding emphasis is placed upon eco-consciousness, material-resourcefulness, collaboration and improvisation. 
As a community educator and artist-in-residence, he engages community members in re-purposing various "waste materials" into performable art-works, while deepening their connections to the Earth and to one another.
Lutter-Gardella is the founder and artistic and managing director of Big Animal Productions LLC, a public art production studio. He also manages and directs Puppet Farm Arts, a humble nonprofit community-arts organization, founded back when he used to squat in a barn with his collection of trash and puppets, in Wisconsin. The mission of the Puppet Farm is "to improve the health of human communities and the Earth by teaching people the process of transforming waste materials into imaginative art".
How You Can Help:
•    Plant habitat! Monarch habitat contains the native milkweed that monarch caterpillars rely on, as well as a diversity of other nectar rich flowers. 
•    Plant a variety of native flowers so you have blooms, and the nectar they provide, growing all season long. 
•    Monarchs need nectar to migrate in both spring and fall, and to breed in the summer!
•    For small spaces, consider a container garden on a balcony or in a shared outdoor space like a patio or front walk. 
•    Every stem makes a difference—you don't need a big space to make an impact.
•    Minimize use of harmful chemicals on your monarch habitat. 
•    Participate in citizen science! By contributing your personal observations, you can help researchers learn more about monarchs and their conservation.
Resources 
Monarch Joint Venture
US Fish and Wildlife Service: Save the Monarch
Pollinator Partnership