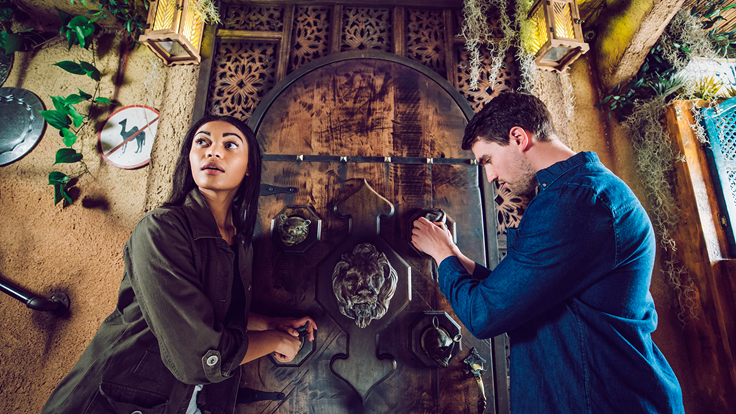 You might escape. You will have fun.

The Escape Game is an immersive 60-minute adventure! Your team will choose from 5 themes: escape prison, explore space, take part in a heist, and more. You'll have 60 minutes to crack codes, uncover clues, solve puzzles and complete a mission.

The Escape Game is great for friends, families, team building, couples, and anyone looking for something new and unique. It's social, immersive, challenging and fun!
Admission: $39.99 + tax
Learn more about the adventures at The Escape Game:
You've made it to Mars, but that was the easy part. Your spacecraft has experienced some major damage and fatal radiation is headed your way. You have exactly 60 minutes to repair your ship and launch.
You are on the hunt...for gold! Recently, a greedy gold prospector who loved to gamble has gone missing. You've been tipped off to where he stashed his gold... But so has the mob. You only have an hour and the time is ticking, start digging!
Can you beat an art thief at his own game? You have exactly one hour to infiltrate the thief's private office and steal back a famous piece of art. To beat a thief, you'll have to become the thief.
You've been wrongfully accused of a crime and sentenced to life in prison. Your cell once belonged to an inmate who disappeared without a trace. Can you follow in his footsteps and find a way out? The evil warden will be in a meeting for one hour, so now is the time...go!
You and your team of agents' routine check of a local market quickly turns into a matter of world security. You have one hour to save the day, or else the entire world is in jeopardy. Can you rise to the occasion and be the hero the world needs?
FAQ
Is it scary?
Our experiences are very different from what you typically see in escape rooms. Our games aren't gross or scary. Our themes are exciting, adventurous and something that guests of all ages can enjoy.
Am I really locked in?
No, you can leave the room at any time. If you need to make a call, or get some air, no problem at all!
Can children play?
We recommend our games for ages 13 and up. We allow younger players, but some of the game content may be too difficult for them. An adult, 18 or older, must participate with anyone that is 14 and under. 
TEAM BUILDING
The Escape Game is a great team building activity and corporate outing. Your team will improve communication and morale and talk about the experience long after it is over. 90% of recently surveyed leaders said that their team's communication skills improved following their team building experience at The Escape Game. To book your team building experience, visit https://theescapegame.com/minneapolis/team-building/.