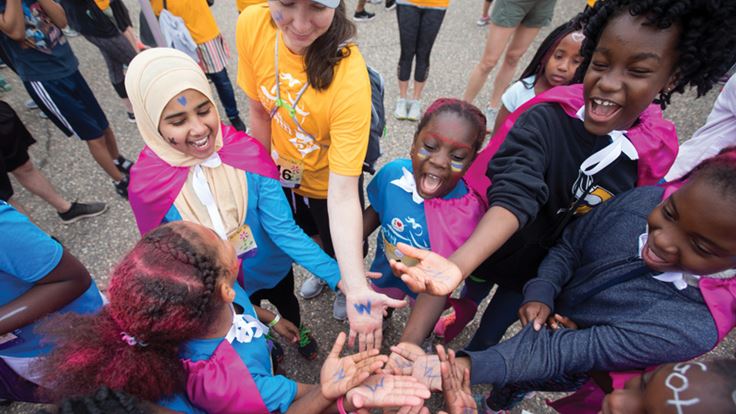 A Little Goes a Long Way
For 20 years, Mall of America, along with our tenants has been a big part of the communities of Minneapolis/St. Paul and our home town of Bloomington, Minnesota.
With more than 13,000 employees in the building and growing, our roots here are wide and grow deeper all the time.
| | |
| --- | --- |
| $26,000 | daily donation value |
| $24,000 | in coins collected every year donated to 12 charities |
| 100,000 | subscribers connected to community partners in our monthly newsletter |
| $9,490,000 | annual donation value |
| 42,000,000 | annual visitors exposed to MOA supported causes & events |
Organizations Showcase
For its 15th anniversary celebration, CaringBridge wanted a real-world gathering place—and there was no place better than Mall of America®. The Mall rotunda set the stage for the star of the party, a 30 X 40-foot greeting card, signed by a world-record-breaking 2,216 people.
The Girl Scouts of Minnesota and Wisconsin River Valley wanted to throw a big party for the Girl Scout Centennial. But when they partnered with Mall of America for the event, they had no idea just how big it would be: 150,000 PEOPLE
Since its inception in 2008, the Walk to End Hunger has raised nearly $1,200,000 to help put food on the table for people in need. Held at Mall of America® on Thanksgiving morning, the Walk has become one of the Mall's signature events. Raised $1,200,000 to help end hunger.
Minnesota Internship Center was awarded all the money from the Mall's ponds from the month of October. The total was more than $1,200; enough to fund Paws for Learning in the school for a full year. Paws for Learning uses trained therapy dogs to help troubled students develop coping skills that can help them succeed in school. Given $1,200 from the Mall's Pond Fund.